Sanitary Disposable Headphone Covers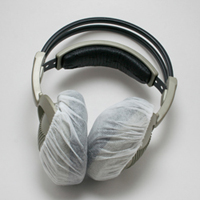 Scan Sound offers 3 Different Sizes of Disposable Headphone Covers that are sized to fit Headphones. The Large Size Headphone Covers typically headphones that completely cup around the outside of the ear. The Small Size Headphone Covers are most often used with the smaller headsets that have a foam earpad that rests against the ear. The small covers are a little under 2 inches in size when relaxed, however when the elastic opening is stretched, the opening will easily allow the covers to fit headphones that have a 3-inch sized earpiece. If your headphones earpieces are larger than 3 inches in size, you will most likely find the Large Size headphone covers will be the best fitting cover. Our Extra-Large Headphone Covers are the largest of the three sizes, and they will expand to 7 inches in size.
We offer these disposable headphone covers in two different colors. The white color headphone covers are most often ordered for facilities that need to make a clear statement that they are offering a way to protect the users from germs, bacteria, viruses, lice and allergens that might be in the hair of some users that are sharing the same headphones. The black disposable covers are frequently ordered for those who want the headphone cover to blend in with the black coloring of the headphone or headphone foam earpads.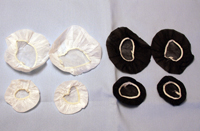 The headphone covers come in sealed plastic bags. Each bag contains 100 sanitary stretchable headphone covers. Each bag sells for $17.00 per bag. We have discounted pricing for those buying 10 bags or more at a time. The 10 bag price is $15.00 per bag. When buying 10 bags at a time, you will receive 1,000 headphone covers. You might also want to consider purchasing the small size headphone covers in a dispenser package of 1,000 covers, priced at $150 per dispenser box. The dispenser box has an oval shaped pop-off opening, making it ideal for dispensing the small size headphone covers for Dental Offices, Schools, Educational Facilities, Hospitals and Health Spas where the box might be placed in a central location for all to easily obtain a new fresh pair of the headphone covers. Click here for pictures of the headphone covers in use at a tradeshow.
The sanitary disposable headphone covers are made from spun polypropeline. They are latex free and hypoallergenic. The headphone covers are made from the same kind of material used to make Wet-Wipes, like the kind used on face cleaning cloths and those used to wipe a baby's bottom. The headphone cover material is quite thin, and yet it easily repels human contaminants and the fabric is perfect for resisting bacteria and viruses, while still allowing audio to easily pass through. Printable literature may be obtained by clicking here. Click here for Volume pricing information.
Microphone Windscreens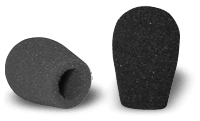 Scan Sound now offers 5 Different Sizes of Windscrens that are size to fit Headset Microphones, Podium Microphones, Lapel Microphones, Lavalier Microphones and most small size Microphones. There's a size for almost every Headset out there.
Simply make a measurement of the existing Windscreen on your current Headset or Microphone, taking into account the inner diameter of the hole in the windscreen and the depth that the microphone protrudes into the windscreen. Then compare your microphone and windscreen size with the sizing shown on our Windscreen Web Page. We also include a Specification Sheet that can easily be printed out so that you have a picture that is very close to the actual size of the windscreen, to make it easy to determine the windscreen that will fit your headset microphone or other type of microphone.
We also have a listing of compatible microphones for each of the windscreens, so you can look up your particular microphone and determine the replacement windscreen that is best suited for your microphone or headset. If you would like to view what the windscreen sizes are in comparison to ordinary office objects click here for a picture that shows many items that demonstrate the inner dimensions quite well.
Stereo Headphones & Mono Headphones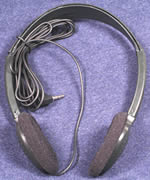 Stereo and Mono Headphones at discount and large quantity wholesale prices

Available in small or large quantities with special bulk pricing
Economical Low Price
Special Order Headphones with Your Logo

We offer High Volume Headphone Sales to:

Senior and Assisted Living Centers
Employment and Job centers
Government, State and Municipal Offices
Police Departments, Law Enforcement Training, Fire Departments, Fire Safety Education Programs
Lawyers, Teachers, Trainers and Educational Facilities
Theaters, Museums, Audio tours, Music halls and Auditoriums
Hearing Impaired, Hearing Testing and Audiology Clinics
Specialized Earbuds for Hearing Assistance Devices most often puchased for Churches
Library, Schools, Students, Audio Visual Departments and Educational Institutions
Exercise Studios, Workout Centers, Tanning Facilities, Life Fitness Exercise Equipment Entertainment Systems
Medical Centers, Doctors Offices, Dialysis Clinics, Hospitals and Hematology / Oncology Centers
Patient Entertainment Including iPods, CD Players, Televisions, DVD Players and Books on Tape
Massage Therapists, Spas, Fitness centers for Treadmills and Video Stationary Bikes
Military for Training Programs, Entertainment Privacy and Flight Simulators
Security Companies, Call Centers and Automobile Manufacturers
Election and Voting Booth Systems utilize our Sanitary Disposable Headphone Covers
Many Companies That Include a Headphone or Headset with their Products
Our stereo and mono headphones are well suited for CD Players, DVD Players, iPod® MP3 Players, Cassette Players, Laptop and Desk Computers, AM/FM Radios, Audio Visual Labs, Workout/Exercise Equipment and almost any stereo system. All stereo and mono headphones are brand new, individually bagged and deliver high quality sound. They will work well with almost any audio device that has a jack which accepts the stereo sub-miniature plug.
Mono headphones are also available, for applications such as hospital televisions, court room preceedings, audio testing and many other uses and applications. Mono headphones have a two conductor jack, and stereo headphones have a three conductor jack. If you plug a stereo headphone into a mono source, you will only hear audio out of one ear, so be sure to order the correct headphone.
Replacement Headphone Foam Earpads

Foam Earpads Enable Headphones to be Recycled Over and Over Again Between Many Different Headphone Users
Foam Replacement Earpad Covers and Cushions are Disposable and Economical

Foam Pads are Economical and Can be Easily Removed and Replaced, Making it Easy to Share Headphones in a Sanitary Manner Between Multiple People

Foam Earpads Come in Various Different Sizes to Fit Many Different Types of Headphone and Headsets
Foam Cushions Range in Size from the Small Ear Bud Style In-The-Ear Headphones all the way up to 2.5" (Two-and-One-Half-Inch) Size Earpieces
Our iPad™ Ear Cushions are Great for iPod ® and MP3 Players

They Help the Earbuds to Stay in the Ear, Block Outside Noise and Provide Added, Comfort when Wearing Earbud Headphones for Longer Periods of Time

By Replacing the Earbud Foam Cushions, Multiple Users May Cleanly Share the Same Earbud Headphones

Earpad Foam Cushions are Sanitary and Enable the Hygienic Use of the Headphones Without Transferring Bacteria from One Person to Another

Stretch Covers for Headphones help keep headphones bacteria and germ free so headphones can be publicly shared by multiple headphone wearers
We have sanitary disposable Stretch Covers for Small Size Headphones (2 to 3 inches in diameter) and Large Size Headphones (3 to 5 inches in diameter). Guess what, they work well for many other purposes as well:

Lens Covers
Golf Ball Covers
Ball-Jar Covers (great for covering your jars during the canning cool-down process)
Bread Bakers will find this to be an excellent Stretchable Jar Cover your Yeast Starter in the Refrigerator
Frequently used by the Wine making Industry
Automobile Painting Cover
Baby Bottle Nipple Cover

New TeleMask - Sanitary cover for use on telephones. This Stretchable Cover is specifically designed to keep telephone germs from spreading to the person using the phone. Works with payphones, cellular phones, shared office phones and common phones found in hotel lobbies, airports, theaters and various public places. These TeleMask disposable covers can be easily slipped on and off of any telephone to keep unwanted viruses and bacteria from being easily spread from one individual to another.

MRI Stereo Sound System Kits & Accessories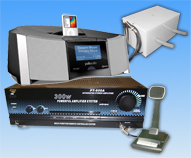 MRI Patient Stereo Sound Systems for Magnetic Resonance Imaging

Music enables MRI and fMRI Patients to relax and better cope with claustrophobia
MRI Sound Systems are Compatible with All Types of MRI Systems, Low-Field and High-Field Strengths

Scan Sound, Inc offers stereo system kits for MRI scanners, Parts and Accessories for MRI Scanners, Including:

Helps Patients to see Outside of the Magnet Bore During Their MRI Scan
Reduces claustrophobia
Increase Throughput and Provide Patient Comfort

Sales Literature for our Patient Music System Kits is available in Adobe Acrobat format to download from our web site.
Scan Scound specializes in MRI Patient Stereo Sound System Kits and accessories for MRI which help to reduce claustrophobia and improve the patient scanning experience. Many of our products have been purchased for use in Radiological Suites, Dentitst Offices, Doctors Offices, Outpatient Centers and Special Procedures Rooms to provide comfort, hygiene and safety for their patients during medical procedures. Our disposable headphones, earpads and headphone covers are frequently purchased by Dentists, Doctors, Educational and Training Centers.
We also offer Patient Stereo Sound System Parts, including:
Stereo Systems are Compatible with ALL Types of MRI and fMRI Systems, Including:

Low-Field MRI Systems Open MRI Systems
High-Field MRI Superconductive MRI Systems
Hitachi, Picker, Seimens, Marconi, Elscint, Philips and General Electric (GE Healthcare)
Toshiba, Diasonics, Otsuka, MagnaServ

MRI Music Systems are Designed to Maximize MRI Patient Comfort, Decrease Anxiety and Increase Patient Throughput
Sound Systems Feature Brookstone and Bose ® Stereo Systems Combined with High Quality Audio Products for Long-Term Use
We offer Safety Disposable Ear Plugs

Individually Wrapped Packages of Earplugs Come in a Handy Dispenser Box
These Ear-Plugs are Top Notch, and the Manufacturer Claims that they Can Reduce Outside Noise by 32dB
Great for Patients who Simply Don't Want to Hear the MRI Gradient Knocking Sounds
Also Work Well for Anyone Flying on an Airplane, Working in a High noise Environment or Anyone Wishing to Obtain Ear Protection for Their Own Safety

Ear Muffs for Maximum Hearing Protection
Prism Glasses
Prism Glasses are Designed to Enable a Person Lying on their Back to See Downward (towards their feet).
NEW- Our MRIwear Prism Glasses are totally inert (no metal hinge). They are MRI Safe and feature the Highest Quality Prisms for optimal viewing clarity.
The Prisms in the MRIwear Prism Glasses can be rotated for Feet-First and Head-First scanning. These Reversable Prisms make this the most versatile type of Prism Glasses Available.
MRI Patients Undergoing a Magnetic Resonance Imaging Scan Can Often Become Claustrophobic, Due to the Constraints of the Size of the Magnet Opening
Prism Glasses Help Patients to Look Out of the Magnet as They Lay Flat on their Back
MRI Patients Feel as Though they are Less Confined When Wearing Prism Glasses
Prism Glasses Have Worked Well in Helping Overcome Claustrophobia
Many Patients have Purchased a Pair of Prism Glasses Before Undergoing their MRI Exam
Most MRI Centers Should Have a Pair of Prism Glasses on Hand for Patients who Exhibit Claustrophobic Tendancies
Patients can Wear the Prism Glasses Inside all the Various MRI System Coils, Including the Head Coil
Prism Glasses are Also Very Useful for People who have Physical Impairments or Physical Limitations, such as those who and Can Not Bend Their Neck to See Sownward
The Prism Glasses are Also Helpful for Those who are Confined to Bed

While Lying on Their Back People Wearing Prism Glasses Can Watch a Television at the Foot of their Bed

Prism Glasses are Similar to a Regular Pair of Glasses in Terms of their Overall Quality
Prisms are Mounted in Place of the Lenses Allowing the Person to View at an Angle Towards Their Feet
At $73.00 a pair, our Prism Glasses are economical enough that many patients purchase the Prism Glasses before they are about to undergo an MRI Scan, just to help ease their claustrophobia. Anyone buying them for personal use will find that after taking them home, they can also use them to watch television while lying flat on their back, or easily read a book on an airplane by placing the book flat on their tray-table as they look forward towards the seat in front of them.
How Do the Prism Glasses Work? The patient looks up into the Prism Glasses, and the Prisms project the light towards the person's feet, helping to prevent Claustrophobia as they do not experience that closed in feeling. Essentially, the Prism Glasses provide a visual effect of being in an open area. Quite frequently, the Prism Glasses are purchased by patients to take to their MRI exam.
Should I Buy the Prism Glasses to Take With Me When I Go For My Scan? If you are concerned about being claustrophobic, it is definitely worth it to have the Prism Glasses with you when you go for your scan. After the MRI scan, the MRI glasses can be used as bed specs to watch television while lying in bed. The ability to watch TV from bed is very helpful to those who are confined to bed for medical reasons. These Prism Glasses are not just a pair of MRI Glasses. The Prisms are a high quality optical glass. The glasses in prism form make it possible to see outside the M.R.I. magnet, reducing the MRI claustrophobia. The Prism Glasses are non-ferrous and are used by MRI Centers all over the world. The prism is fixed in a single position so that a person lying flat on their back, looking up, will actually see towards their feet.
All Plastic Headphones for MRI Scanners
Plastic Headphones are Also Referred to as Pneumatic Headphones or Acoustic Headphones
Vinyl Tubing Carries Sound to the PnuematicHeadphone so the Audio will Reach the Patient's Ears While they are Inside of an MRI Scanner
No Wires or Metal Parts Can be Used, as Metal Can Distort an MRI Scan and Create Artifacts (Undesirable Lines and Patterns)
Due to Their All Plastic Design, the Headphones Will Not be Pulled by the MRI System's Magnetic Field and Will Not Interfere with Diagnostic Imaging of the Body
Our standard pneumatic headphones are an economical "stethoscope-style" plastic headphone

This headphone will fit inside all MRI System coils

Eartips can be replaced between patients, providing a sanitary method of sharing the headphone with multiple users
Most MRI Systems produce substantial noise during the gradient coil pulsations; these gradient pulsations are required in order to produce the image slices that are essential for patient imaging. In order to reduce the scanner noise and direct the audio into the patient ears, we developed a Noise Reduction Headphone that cups the outer portion of the ear and directs the audio directly into the ear canal . Foam inside the headphone combined with inner eartips reduce the noise levels substantially, enabling patients to clearly hear the MRI stereo sound and technologist's voice during the scanning sequences.
Products for Fitness Centers, Spas and Workout Facilities
Headphones which may be used with fitness center equipment, including Life Fitness treadmills which have built-in Entertainment Television and Music Stereo Systems
Fitness Center Wipes which may be used to clean away germs and bacteria between uses of exercise equipment without the use of harsh chemicals which could damage equipment or harm the environment
Fitness Center Wipes which are environmentally friendly and provide a means of safely cleaning headphones that may be shared by multiple individuals
Due to Their All Plastic Design, the Headphones Will Not be Pulled by the MRI System's Magnetic Field and Will Not Interfere with Diagnostic Imaging of the Body
Many Fitness Centers and Exercise Gyms are now using Treadmills and other workout equipment which have a built-in stereo Entertainment System which will enable the user to wear a pair of headphones or eabuds and listen to an audio selection while exercizing. Scan Sound, Inc. offers headphones and earbuds which are compatible with the many types of fitness center entertainment systems.
In addition to offering headphones for Fitness Centers, Tanning Spas, Health Spas and Workout Centers, Scan Sound offers environmentally friendly fitness center wipes. These wipes contain just the right amount of hygienic cleaning solution to assist you with effectively maintaining workout equipment cleanliness while reducing the spread of germs. These wipes are available in handy wipes dispensers that come in many different sizes for heavy duty use, light use and personal use. The large and medium size dispensers can be placed nearby the Treadmill, Workout and Exercise Equipment or Tanning Bed, making it possible for anyone using the equipment to wipe down the surfaces which are likely to come in contact with the skin or possibly contribute to the spread of bacteria. Personal size wipes can be carried to any gym or workout center to offer individuals their own level of personal protection.